Team Freestyle was formed in 2008 by head coach Will Jackson at the famed "Freestyle Martial Arts" Dojo. It is nestled in the heart of San Diego's coastal Point Loma community. Team Freestyle trains a system of acrobatic martial arts called "XMA" (Extreme Martial Arts). XMA is a hybrid system of performance containing elements of Karate, acrobatics, tricking, and weaponry. Since inception, Team Freestyle has collected over 20 national titles from competitions around the country. These competitions include Compete Nationals (Los Angeles), AKA Warrior Cup (Chicago), Diamond Nationals (Minneapolis Minnesota), and the U.S. Open (Orlando Florida). Team Freestyle has also won back to back ISKA titles in 2016 & 2017. Team Freestyle as an organization consists of 3 teams, participating at various levels of competition. Athletes progress though the system with the goal of reaching "Sr. Elite status," allowing participation in the world's most prestigious competitions. 
The mission of Team Freestyle is to develop the next generation of martial arts superstars, while representing the city of San Diego in competition at the highest level. We train everyday with the expectation to compete tenaciously to be our best. We know that losing is part if the formula for success, however each of our athletes makes the commitment every day to either win or learn. In that context we never lose. 
Team Freestyle has two farm teams filtering talent onto the Senior Elite team.
This team is designed for students ages 6-12. This program is geared toward learning the fundamentals of XMA (Extreme Martial Arts). Despite having limited experience, each athlete competes at Compete Nationals every winter and performs at the major FMA (Freestyle Martial arts) functions.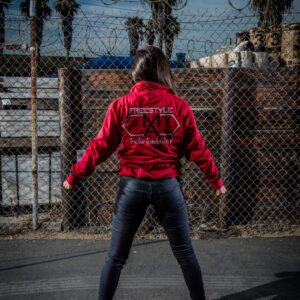 This team is designed to prepare athletes for the NASKA World competition tour, while serving as the direct pipeline to "Senior Elite." Ages range from 10-14 years old. This squad focuses on acrobatics, routine choreography, and weapon manipulation.